Our media intern Josh Smith writes about his experience being at the Bournemouth Comic Con 2016
When I mention the words Comic Con to any person, I often get one of three reactions. The first being a disgusted look that could pierce anything as if to say, "oh dear, your one of those". The second, "I thought that was just something from The Big Bang Theory". And finally, A look of overjoy, followed by a conversation that could possibly last for hours until you realise you've been speaking to that person for hours without even noticing the time.
I have been in the bracket of all three of these reactions oddly enough and can say I'm firmly into the third bracket after everything. It might be useful to know this before you stop reading and start turning your nose up at the idea of Comic Cons and maybe quite possibly give it a chance (at least this article).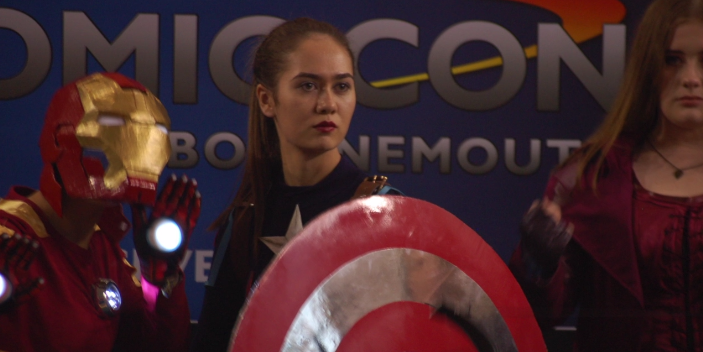 September in Bournemouth isn't exactly quality British viewing. Perhaps turn the clocks back a couple of week and getting sand everywhere to the point where you're still finding it in your shoes at Christmas time might have been somewhat enjoyable. But now it's grey and the beach is as lively as a surprise party in the hip replacement ward. However, wander up to the BIC during the Comic Con weekend convention and that certainly isn't the case, a welcome surprise to the residents of Bournemouth I'm sure. I was taken aback at how many locals were spending time around the entrance of the BIC amazed at what was in front of them. I guess it's not every day that you see hundreds of keen fans of different fantasy worlds dress up eagerly and for the outsider, I guess that sight is a strange one. But one more than not they were welcoming, which was great to see.
Lining up to get into the 'mad house' I was amazed at how detailed peoples' cosplays were. Talking to many of the people who have journeyed to get to Bournemouth it was weird and powerful how much all this means to them. Yes, to some it might seem odd and it might seem like a waste. But the smiles I see on their faces doesn't make me question it at all. It almost seems normal; I suppose it is normal to a lot of them.
Inside the BIC and we get down to business. I'm greeted firstly by a steward who scans my ticket and gives me a smile as if to say, "This whole thing is weird" followed by a greeting from Predator. Or at least a cosplay of Predator. Instantly I knew this was going to be the normal for the day and I loved it.
Around the two show floors were, as usual all the different stalls with a variety of goodies for sale, but that was just one side of the convention. To me the intriguing part was it was amazing how the atmosphere felt different to any other type of convention I've been too. Comic cons just have this uniqueness to them that others don't. I truly believe that is because there's a real sense of community within these group of strangers, who ultimately share the same passion. You hardly see that anywhere else. Everyone is welcomed with open arms no matter how popular you are back home, what your background is, your look and your age. If your passionate about Comic Con and cosplay you are bound to make loads of friends. I wish other conventions were like this, but many are self-centred and you focus on making sure that you have a great experience. People who I've seen go to Comic Con make sure they have a good time, but it's almost as important that they feel that everyone else is as well.
At the end of the day, a procession of the best cosplays was held on the main stage at the event. A real celebration of not just people's effort and work, but also of the community people of different ages, old, young, abled & disabled, showing off their work. And people getting right behind them all equally. It showed the strength there is behind cosplay.
Is there a downside to all of this? Yes, cosplaying can be expensive and yes I hear many people say you end up spending lots of money at these events. But surely other people spend lots of money on other things that make them happy, so what's all the fuss about.
To me all of this is great and makes me happy. Talking to one girl in the centre she really brought to heart why these kind of events are necessary.
"Why do I go to these events? Not only do I love to dress up and cosplay but to me it's my form of escaping. I hate school, I don't have many friends and at home my relationship with my parents isn't the best, it's almost non-existent and I feel like nothing. Coming here I gain both friends and a family. I need it, it makes me get through bad days and see hope for later on. I wish it would last forever."
And that's exactly it, I wish it would last forever after seeing everything there was to offer. This Comic Con achieved so much for so many people, meeting idols, friends and being part of a fun community. But that brief chat made me think, if all that was achieved over that weekend was to make that girl feel for once that she was welcomed and excepted and loved, then all the effort and time by everyone else involved was worth it.
"Why do I go to these events? Not only do I love to dress up and cosplay but to me it's my form of escaping."