Board Game Café – Southsea Thursday April 5th 2018
5th April 2018 @ 6:00 pm

-

10:00 pm

BST

Free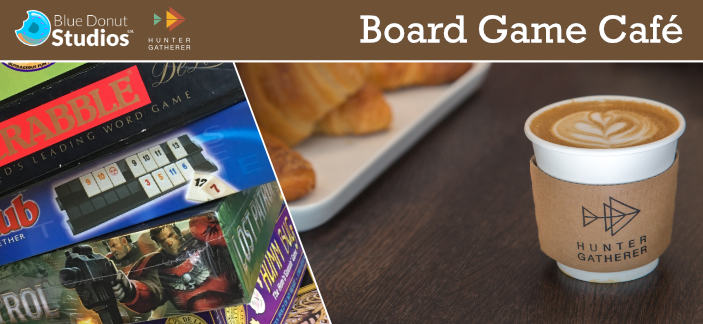 Board game café event in Albert Road, Southsea, Hampshire UK.
The event is being hosted by the Hunter Gatherer Coffee shop, which since its opening has been host to artists, musicians and designers and is very family friendly as well as sporting their own crafts boutique. They are a team with a passion for great food, excellent coffee & local and sustainable business, making them a perfect place for games and fun.
The second game event to be held will be aimed at everyone who loves to play board games. We will be providing nearly 50 traditional and some new board games as well as some brand new games in development.
The event is free to join in with and you are welcome to bring your own card and board games. If you already belong to a games group, you will be most welcome. If you've never rolled a dice in your life, you're also very welcome and people will be on hand to help start a game. If you're a master at Rummikub or 'Settlers' bring your game and start up!
Hunter Gather will be providing a special evening menu and their range of amazing teas and coffee will also be available to purchase. There will be a menu of light snacks available, which will also cater for vegetarian diets as well.
There will be opportunities to buy copies of some of the new games that are being played.
What time does it start?
We will be starting at the Hunter Gatherer Café on Thursday 16th February in Southsea at 6:00pm and the event will finish at 10.00pm So we look forward to seeing you there!
The Menu
Hunter Gatherer have a delicious home made menu available for purchase during the evening which includes options for vegetarian and vegan requirements. Wine, and beer that has been carefully selected is also available and we shouldn't forget to mention the amazing range of teas, fruit and herbal infusions and fantastic coffees.
The Board Games
Below is a list of some of the games we will be providing.
Game Title, Number of copies
Monopoly Traditional 2Monopoly Star Wars 1

Scrabble Original 2 2

Scrabble Deluxe 1

Rummikub 2

Battleship 1

Pictionary 1

Operation 1

Atlas Adventures 1

Sherlock Holmes: The Master Detective 1

Smart Ass 1

Read My Lips 1

Snorta 1

Cranium 1

Cluedo Delux 1

Pointless: The Board Game 1

Warhammer 40,000: Lost Patrol 1

Chess 1

Hogwash 1

Dominos 1

Yard Master

Mistfall

 Trivual Pursuit: Family Edition 1Doctor Who: interactive Board Game 1

Doctor Who: DVD Board Game 1

Connect 4 1

IQ: The Game 1

QI Game 1

Jenga 2

The Journey Home 1 Play and Buy

Ruddy Vikings 1 Play and Buy

Line 1 Test

Yahtzee 1

Table Tabloids 2

Pass the Pigs 1

Uno – Simpsons Edition 1

Trivual Pursuit: Genius III 1

Humm Bug 1

Who Wants to be a Millionaire 1

Anatomix 1

Scrabble for Juniors 1

Link Letters 1

Sushi Go