We need your help! You can help be part of our journey to bring our games to people.
Tell us your views about games, the community and where you buy your games…
This will help us to better understand the way you read or watch information about games, where you go to find out and talk about games and how you make decisions about buying games. With that information we can make better messages and better games. Why? Because we then know that we are relevant to you from the start to the finish in the journey of our next game!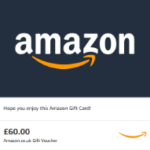 In return we will be holding a prize draw. This draw will be a random selection from 1000 submissions to find a winner. That winner will receive a £60.00 Amazon voucher. This is only open to the public – and not any of our employees! We want to know what the people who play and buy games think.
Terms & Conditions of Submission
Anyone over 16 is able to take part. If you submit more than once you still only get one chance of winning. You will need to submit a valid email address otherwise we cannot send you the voucher. We will contact 1 winner once we have 1000 submissions. The winner will be picked at random. We will contact the winner via email to confirm the email address is valid before sending any voucher. We will only send one Amazon voucher. Please, do not ask for anything else instead. Once we send the voucher to you it will be your responsibility to use it. If it expires or you have problems with it you will need to contact Amazon. We cannot accept any liability for any loss or damage to your data or device if your submission fails. The value of the Amazon voucher will be £60 (Sixty Pounds Sterling only). BDS winner decision is final. You agree to these terms and conditions by submitting or saving an entry via this form. These terms and conditions are governed by English Law.
If you are 16 you must seek the permission of your parent or guardian. If you are under 16 you cannot submit an entry. You may, however ask your parent or guardian to submit your views on your behalf but it must be via their email address.
Data Protection
We are data controllers and therefore we are obliged to be compliant with the UK Data Protection Act and GDPR. We will not sell your data to third parties. We do not collect personal identifiable data except for your email address. We will not contact you unless it is because you have selected to join our mailing list or you have won an amazon voucher.
You have the right to request your information be deleted from our database, however we must be able to confirm your identity to be able to do so. This will require you to write to us confirming your email address. Please note that we will anonymise your data so that we will retain the information your submitted but we will remove your email associated to it.
Number of Submissions this week (0/1000)
How Far to go before the Prize Draw can be made

4%

4%