Board Game Café Event Crookhorn, Waterlooville, Hampshire UK. 18th October 2018
18th October 2018 @ 6:00 pm

-

9:30 pm

BST

FREE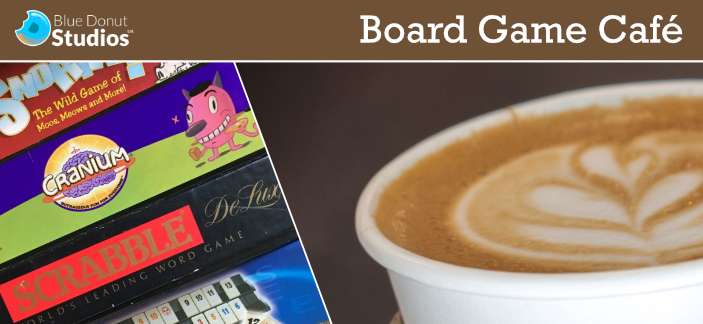 You are here:
Home » Events » Board Game Café Event Crookhorn, Waterlooville, Hampshire UK. 18th October 2018
Board game Café event in Crookhorn, Waterlooville, Hampshire UK. Thursday 18th October 2018. 6:00 pm – 9:30 pm.
The Board Game Cafe in Waterlooville Hampshire is being hosted by the COGS Community Café, This is event venue aimed at everyone who loves to play board games. We will be providing over 100 traditional and new board games as well as some brand new games in development. The event is free to attend.
You are welcome to bring your own card and board games. Do you already belong to a games group, you will be most welcome. If dice rolling is not a part of your everyday life, you're also very welcome and people will be on hand to help start a game so come and join a table and make some new friends who are also probably new to a game. If you're a master at Rummikub or 'Settlers' bring your game and start up! We're about having fun, meeting people and relaxing. This is a family event designed to take the stress out life and enjoy an affordable hobby that's a great break from video games and smartphones.
The Café team will be providing a special evening menu including soups, homemade cakes, tea and coffee for a nominal fee. There will be opportunities to buy copies of some of the new games that are being played.
The Board Games
Below is a list of some of the games that are free to play at the Board Game Cafe.
Game Title, Number of copies
New Games added: Splendour, Love Letter, Rockwell, Alchemists, Takeido and many more.
Monopoly Traditional 2Monopoly Star Wars 1Scrabble Original 2 2

Scrabble Deluxe 1

Rummikub 2

Battleship 1

Pictionary 1

Operation 1

Atlas Adventures 1

Sherlock Holmes: The Master Detective 1

Smart Ass 1

Read My Lips 1

Snorta 1

Cranium 1

Cluedo Delux 1

Pointless: The Board Game 1

Warhammer 40,000: Lost Patrol 1

Chess 1

Hogwash 1

Dominos 1

Yard Master

Mistfall

 Trivual Pursuit: Family Edition 1Doctor Who: interactive Board Game 1Doctor Who: DVD Board Game 1

Connect 4 1

IQ: The Game 1

QI Game 1

Jenga 2

The Journey Home 1 Play and Buy

Ruddy Vikings 1 Play and Buy

Line 1 Test

Yahtzee 1

Table Tabloids 2

Pass the Pigs 1

Uno – Simpsons Edition 1

Trivual Pursuit: Genius III 1

Humm Bug 1

Who Wants to be a Millionaire 1

Anatomix 1

Scrabble for Juniors 1

Link Letters 1

Sushi Go
Interested in technology and looking for an AR or VR solution for your Organisation? Take a look at our solutions for Augm